Tickets to King Roc…………
DirtyDubbin at "Meet" in Farringdon.
Guest Dj www.kingroc.co.uk 9am – 4am, Saturday the 16th of December 2006.
3 Floors, 2 Dance arenas + Chill floor, for £12 pre sold tickets contact soultnuts
You need a ticket ta be innit……
SoulTnuts@Gmail.com
85 Charterhouse street London Ec1m 6HJ, Farringdon station.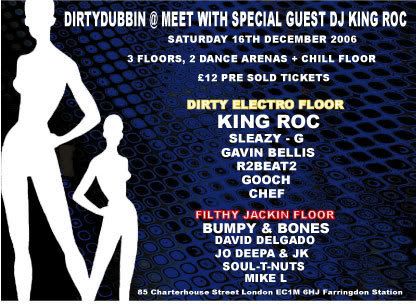 This entry was posted on Friday, December 8th, 2006 at 12:00 pm and is filed under Events.