Winter Ambient – New Dj mix and podcast.
Ambient winter warmer tracks to get you through the winter chill.
Use the arow icon to download a copy for yourself, use the Itunes button to subscribe or just hit the play button for instant streaming.
Happy Winter.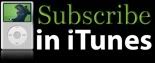 This entry was posted on Tuesday, February 8th, 2011 at 11:33 pm and is filed under Dj Mixes.