New Dj Mix – Frequencies (Down tempo and Ambient)
A break from the norm with this fun sampled up mix of Down tempo and Ambient beats.Usual options available with instant streaming by clicking the play button, download a copy for yourself using the arrow icon or subscribe via podcasting using the Itunes Icon.
Enjoy the Mix.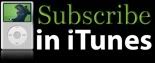 This entry was posted on Sunday, August 14th, 2011 at 12:25 pm and is filed under Dj Mixes.