Tuesday, May 29th, 2007
Located in the heart of kings cross the key is an intimate stylish buou and edgy club, if the interior deosnt take your breath away then the dance floor will.
The key is the magical space spread over two levels, offering chic opulence with an authentic underground dance space adorned with ornate mirrors, plush leather sofas, eclectic furniture and luscious flowers, this is no ordinary venue.
Contact SoulTnuts for your advanced discounted tickets.
Posted in Events |
Monday, May 28th, 2007
Click the play button to listen to listen to the latest mix from SoulTnuts.
Breakin it down By Dj SoulTnuts – Funky House
Posted in Dj Mixes |
Tuesday, May 22nd, 2007
Get the make up slapped off yo face this here coming Saturday morning with a super strong dose of Tha Brown Sound.
log on to Code.FM and tune into server 1, 9am – 11 am (UK)
Posted in Events |
Tuesday, May 22nd, 2007
SomaFM is commercial-free radio supported entirely by us! With a £26 subscription, you'll receive a SomaFM T-shirt. Show the world we support SomaFM and have great taste in music!
11 unique channels of listener-supported, commercial-free, underground and alternative radio broadcasting from San Francisco.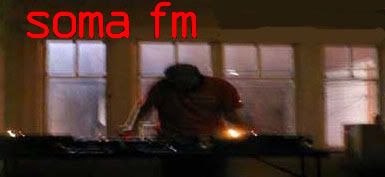 SomaFM needs your help!!
SomaFM needs everyones help to save internet radio: They're faced with new royalties for the music they play, which retroactively increased they're royalties from about $20,000 for 2006 to over $600,000 for 2006.
They get worse over the next years, when they'll be forced to pay over $1 million a year to stay on the air. (Learn more…)
Posted in Radio Shows |
Saturday, May 19th, 2007
Society @ Bar2Far
Free entry before 9:30
Bottled Wine £7 all night
Quinns Breezers 2 for £5
and a new music policy of Funky "Vocal" House from start to finish!
get yo ass down there…..
Posted in Events |
Tuesday, May 1st, 2007
Nu Religion: The First Birthday
@ The Colosseum, Nine Elms Lane,
Vauxhall, London
Saturday 12th May 2007
After the monumental success that was their massive collaboration with Timeless in February, Nu Religion take things up a good few notches for their agenda-setting First Birthday! After 4 sold-out gigs at the award-winning Hidden, Nu Religion returns with its biggest event to date – taking over all 4 state-of-the-art arenas at superb Colosseum. The feedback from the hard dance-loving public about the venue following the February event has been nothing short of sensational – putting the venue back on the map for a whole new generation of clubbers.
Nu Religion has a simple aim: take every single show-stopping Nu Wave DJ, the best futuristic sound and lighting technology that money can buy and get every committed Hard House Fanatic from across the UK to come – and throw the first great party of the Summer! Throwing down the gauntlet with a diverse and inspiring soundtrack of Hard House, Hard Trance, Hardcore, Freeform, Hardstyle, Electro and Techno, the First Birthday promises to provide one of the most exciting musical experiences in London this year. High-adrenaline, intense, feel-good music and nothing else!
Headlining this spectacular event, we have a UK Exclusive in the form of a back-to-back set from Steve Hill & Technikal – two of the most prolific producers in hard dance who have collaborated on many a classic track such as 'Weekend (Party Time)', 'Adagio For Strings' and 'Ecstacy'. Expect epic breakdowns, spine-tingling riffs and big grooving basslines – and one of the most captivating sets in hard dance this year. MDA & Spherical return with Jennie Rix for another spell-binding live PA, bringing some of their future classics to the Nu Religion main stage. Frantic's astoundingly popular Andy Whitby and Cally Gage are also joined on the line-up by legends of the scene like Lisa Pin Up, Rob Tissera and the King of Hard House™ Andy Farley – returning to show London that the filth is alive and kicking! There's also not-to-be-missed twisted hardstyle and European hard trance from Cally & Juice, Alex Kidd and Kutski – 4 of the most exciting performers in the game!
All this and we haven't even got started on the dozens of other DJs playing on the night – expect the cream of the new-wave and the future heroes of our scene!
"It was a fantastic night as always at NuReligion. Can't wait for the next one!" – Agent Bunnykins, DontStayIn
"Keep going in this direction guys and NuReligion could become a trademark that will not be easy to beat in 2007…for me it feels like "home" already!" – TheLEGENDThatIsRoy, DontStayIn
Main Arena
MDA & Spherical LIVE! Feat Jennie Rix
Steve Hill Vs Technikal
Lisa Pin Up
Rob Tissera
Andy Whitby
Alex Kidd
Cally & Juice
Cally Gage
James Condon
Mark H
Second Arena
Hosted By B2T & CONTACT
Andy Farley
Kevin Energy
Kutski
JP & Jukesy
Matt Handy
Strange Dave b2b Live Wire
Riggsy b2b Kye Shand
John Vyse b2b Cheeko
Tom Reid & Dave Castellano
Miz & U-Technology
Third Arena
Hosted By Xstatic
Jimmy Dean
Matt Pick Up & Andy Rise
Miss Frisky
Baz & Butcher
Hoopz B2B Bilbstar
Elvis
Great White
JT & Mixin
Wain Johnstone
Forth Arena
Hosted By Dirty Dubbin & Bauhaus
Future Freakz
Sleazy-G
Steelo
Mike L
Craig G
Wub
Breezy
Dj Shan
Sam Adams
Dj Soultnuts
contact SoulTnuts for £14 tickets
Standard Tickets will be priced at £16.
WIN a night in the UK's most famous DJ Hotel – The Great Eastern in Central London! Stay with the stars, get picked up and driven to the gig by Cally Gage and receive free drinks all night! All you need to do to enter is to email your full name to willfrantic@yahoo.co.uk with the subject 'NuReligion comp'.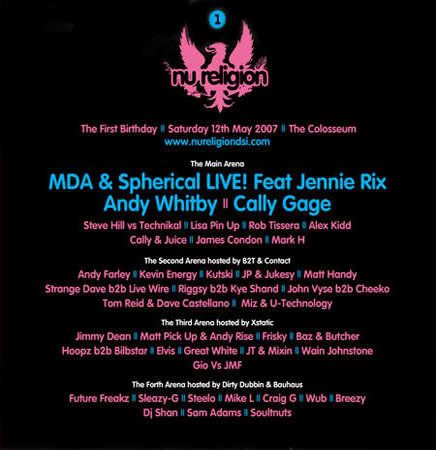 Posted in Events |
Tuesday, May 1st, 2007
Catch "Tha Brown Sound" live this Saturday morning on Code.FM with me Dj SoulTnuts, tune into server 1 from 9am – 11am (UK)
Posted in Events |