Archive for March, 2007
Sunday, March 25th, 2007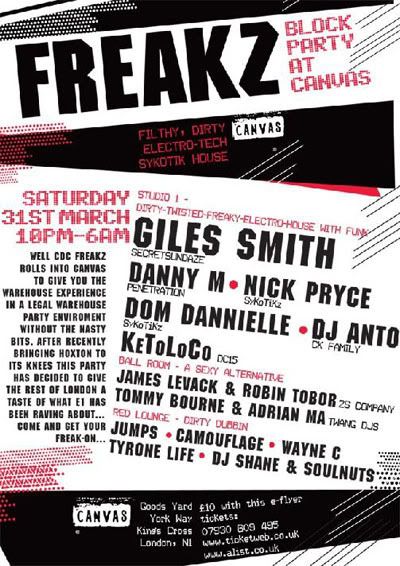 STUDIO 1
Giles Smith
Danny M
Nick Pryce
Dom Dannielle
KeToLoCo
BALL ROOM –
A Sexy Alternative
2s Company with James Levack & Robin Tobor
Twang DJs Tommy Bourne & Adrian Ma
Sleazy-G & Gavin Bellis (DIRTYdubbin)
RED LOUNGE
DIRTYdubbin
Bumps
Camouflage
Wayne C
Tyrone Life
DJ Shane
Soultnuts
Well CDC FREAKZ roll into Canvas to give you the Warehouse experience in a Legal Warehouse party enviroment without the nasty bits.
After recently bringing Hoxton to its knees this party has decided to give the rest of London a taste of what e1 has been raving about……
Come and get your FREAK-ON……..
Resident FREAKZ alongside special guests will star in this one off Legal warehouse style party so expect FREAKY-fun,frollics and a party atmosphere that will have you stomping your way into sunday morning.
10.00pm-6am
£10 with Flyer or avoid all queues and walk straight in
E-MAIL SoulTnuts@Gmail.com for £10 ADVANCE TICKETS WITH VIP ACCESS
Posted in Events |
Thursday, March 22nd, 2007
Catch ma self on Code.FM this Saturday morning for toasty beatz…..
9am – 11am on server 1, a whole fresh record box to get through, tune in!!!
Posted in Events |
Monday, March 12th, 2007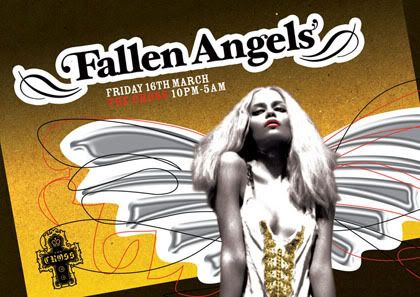 Join me for my Birthday celebrations this coming Friday the 16th of March at The Cross.
The DirtyDubbin crew will be taking over the main dance floor for the usual serving of slap em up chunky house music.
Djs on the night include.
DIRTYdubbin – Dark floor
Sleazy-G
Gavin Bellis
Dj Shan
Camouflage
Frank van Greunen
Dj SoulTnuts
Wayne c
Hosted by B-SIDES
Aslam
MADZMusic
Jagzz
Middle room hosted by Dirty Sickos
Rasslin
Andy Burby
Dom Clark
Richie Rich
Gareth Wyld
Dirty Funkers
Contact me for super discounted tickets SoulTnut@gmail.com
The Cross can be found Arches 27 – 31 York way
nearest tube: Kingscross st
Posted in Events |
Wednesday, March 7th, 2007
Code.FM, server 1 this Saturday morning, join me in the chat room for shout outs and tune requests.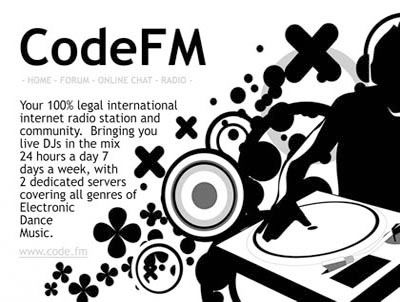 Posted in Radio Shows |