Archive for 2006
« Older Entries
Sunday, December 17th, 2006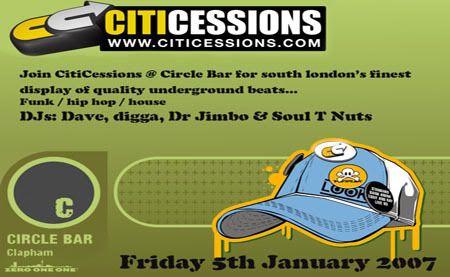 Posted in Events |
Friday, December 8th, 2006
DirtyDubbin at "Meet" in Farringdon.
Guest Dj www.kingroc.co.uk 9am – 4am, Saturday the 16th of December 2006.
3 Floors, 2 Dance arenas + Chill floor, for £12 pre sold tickets contact soultnuts
You need a ticket ta be innit……
SoulTnuts@Gmail.com
85 Charterhouse street London Ec1m 6HJ, Farringdon station.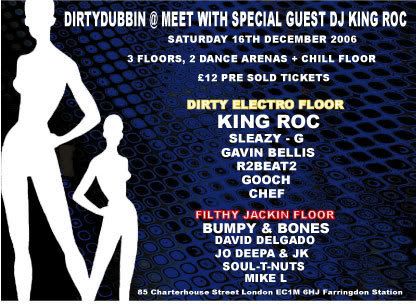 Posted in Events |
Thursday, December 7th, 2006
oook!!! admit it…..you also got a Joey Youngman record in your collection!….some of you probably dont even know ya got one!…….
Joey is one of the only top House producers who more than lives up to his name when it comes to lashing a crowd around about the dance floor.Joeys been featured on some very nice labels too, most notably Fetish records and Jackin tracks.
You need to tune into Code.FM this Saturday from 11am (GMT) to see what were talking about.
Posted in Radio Shows |
Thursday, December 7th, 2006
Tune in this Saturday mawning, 9am taz 11 Shay…M for yo regular dosage of slick beats and hot treats….
Only on Tha Brown Sound Wid me, SoulTeeButts……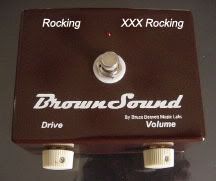 "
Posted in Radio Shows |
Thursday, December 7th, 2006
This Saturday 9th of December we welcome to Code.FM, Dj Chris Grant who has kindly offered a funky ass mix for yo listening pleasure….
Hailing from Chicago, Chris has never been a stranger to house music, laying steady footprints down in both the dj and production scene. Beginning as a DJ with the now classic Mob Rule CD and venturing into production with his first hit single, "The Jimmy Jam" released on Jackin' Tracks, selling out within a matter of weeks. Various mixes, including Number 5 and Dancing Music For Grown Folks have been heard as far away as Ireland to Japan to Bangkok and even more recently, showcased previously on Sirius Satellite Radio, with the summer release of Number Six and Seven receiving similar attention. Chris has seen reviews for his material published near and far, most recently noted as an Artist of the Month in URB Magazine. New releases include a remix for the Sound Republic's "When I Get Paid", released on DAE Recordings in 2006. Immediately following, a remix for up and comer's Gawron Paris, based out of Berlin, that was recently snatched up on Kolour Recordings entitled "Workaholic Man". Having laid down a solid path in the house scene, playing deep underground house parties to clubs and shows, Chris's years of experience and understanding of the music show through in each set and now you can enjoy a mix from the man himself this Saturday,
Tune into Server 1 from 11am, only on Code.FM.
Posted in Radio Shows |
Sunday, December 3rd, 2006
Chill with the CitiCessions crew this Friday the 8th of December at Clapham norths Circle bar.
Grab your self a feast from the menu and a bevvie with the "Happy Four Hours" special, Two cocktails for £5.50, Five Coronas for £10, Carling extra cold £2.50.
Tripped out beats, supplied by Skwatta, Digga, Dave and SoulTnuts………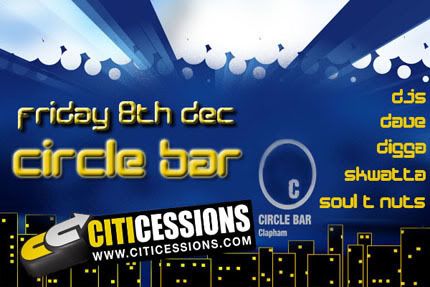 Posted in Events |
Wednesday, November 29th, 2006
Join us this Saturday morning on Code.FM from 11am for a smashing hot guest mix from Wally Callerio the founder of the most excellent Duffle bag recordings.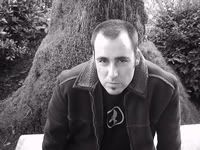 Founded in 1997 by Wally Callerio, Dufflebag Recordings has become a long time staple in underground house music community featuring artist such as Natural Rhythm, JT Donaldson, Lance Desardi, Guided Methods, Vibezelect and Wally himself. Releasing music on its own schedule, Dufflebag has always favored the quality of music over the quantity of releases.
This same mantra of quality over quantity has also been the focus of Wally's own productions, an attribute that is evident when listening to his body of work. With releases featured on Alluv, Aroma, Classic, Electrik Soul, Magnetic, and Panhandle, he has shown he has what it takes to keep pace with the talented producers of today while also helping to shape the sounds of tomorrow.
More recently released was Wally's highly acclaimed remix of Josh One's "Afterhours" on 5.1 Surround (MyUtopia) as well as the release of the "Southern California Playa's E.P", which features Wally's re-working of Myka 9's summertime jam, "Citrus District".
As Dufflebag moves into 2006 and steps up its release schedule, be on the look out for his newest productions which feature collaborations with vocalists Jah Ques, Symphony, Jud Nester and Erin Carmen.
Huge thanks to Wally…..
Server 1, www.Code.FM, 11am Saturday 2nd of December.
Posted in Radio Shows |
Next Page »